BMD Testing Guidelines in Young and Middle-Aged Adults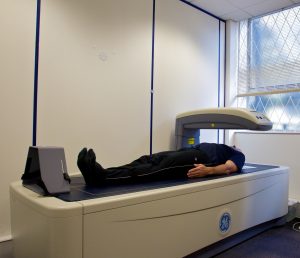 Healthcare providers should encourage every young and middle-aged adult to adopt a lifestyle that is conducive to healthy bones. Healthy lifestyle choices promote overall health and wellbeing. They also help prevent chronic diseases. Bone densitometry can help identify low bone mass and prevent fragility fractures. What are BMD testing guidelines for adults?
Routine BMD testing is not recommended in healthy individuals who are asymptomatic and have no known risk factors for osteoporosis or other bone diseases. In addition, although BMD testing is associated with a very small amount of radiation exposure, the test is usually not recommended in pregnant women.
BMD Testing in High-Risk Individuals
According to BMD testing guidelines, adults with risk factors for bone disease should be carefully monitored by the health providers caring for them. Medical conditions that are associated with bone loss, such as hypogonadism (primary or induced), hyperparathyroidism, and hyperthyroidism warrant special attention. Individuals with gastrointestinal malabsorption, chronic hepatic or renal failure, or significantly impaired mobility are at risk of bone disease. In addition to healthy lifestyle choices and appropriate nutrition, high-risk patients should be considered for BMD testing and prophylactic therapy with pharmacologic agents.
BMD Testing While on Certain Medications
BMD testing guidelines recommend the test in patients who are on treatment with medications that can cause bone loss. This includes immunosuppressants (methotrexate, tacrolimus, cyclosporine A), anticonvulsants, glucocorticoids, and heparin for more than one month. In particular, glucocorticoids can lead to rapid bone loss soon after initiation of therapy, and healthcare providers should consider BMD testing prior to beginning therapy with these drugs. Simultaneous antiresorptive therapy should be considered in patients with low bone density in need of treatment with glucocorticoids.
BMD Testing Guidelines and Fracture Risk
Some young adults may be identified to be at increased risk of fractures due to coexisting medical conditions. They should be advised to maximize lifestyle and nutritional measures to prevent bone disease. BMD testing guidelines recommend that testing should be considered in these individuals. Specific antiresorptive therapy should be started if low bone mass is detected.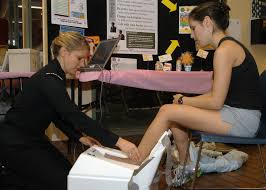 BMD Interpretation
The interpretation of BMD measurements in adults is based on reference values expressed as T-scores. It should be noted, however, that in younger individuals, thresholds have not been clearly established. This makes it difficult to indicate a diagnosis of osteoporosis or begin treatment. T-scores are a comparison of an individual's bone density to the peak bone mass achieved by an average young adult in the third decade of life. As part of BMD testing guidelines and counseling, healthcare providers should explain T-score measurements to their patients. For example, a positive T-score indicates that the patient's bone density is more than that of an average 30-year-old adult. On the other hand, a negative T-score means that the patient's bone density is less than that of an average young adult.
X-ray Continuing Education
We offer online X-ray CEUs. Purchase one of our X-ray CE e-courses to quickly and conveniently complete your requirements for the ARRT® and other national and state registries. Our course on bone densitometry is worth 23 category A credits and is a great way for DXA operators and general radiographers to update their knowledge on bone biology, diseases, and imaging.
Visit here to know about continuing education credits for radiologic technologists.