Occupational Radiation Dose Records: Why They Are Important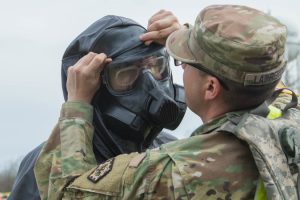 In addition to the individual reporting of occupational doses, the conditions under which workers are exposed to radiation are also monitored with workplace records. Sometimes workplace records must be relied upon to estimate individual doses when a particular employee's occupational radiation dose record is not available. Workplace records are useful in assessing the effectiveness of the radiation safety program at a facility.
The results of radiation monitoring, calibration of instruments, individual occupational doses, and initial and repeat radiation protection evaluations are all part of the workplace radiation record. Records also include the technical basis of radiation monitoring, placement of fixed dosimeters, alarms, location and timing of sample collection, analysis results, and corrective actions taken as a result of monitoring. The description of the survey equipment, including type and identification number, is also recorded. This type of record keeping is important during radiation disasters.
Administrative Records
Administrative records for occupational radiation safety include employee training records, actions taken to maintain ALARA, facility design and plans, changes in techniques and processes and equipment, as well as records of internal audits and documentation of compliance. According to 10 CFR 19, any individual with an expected exposure of 100 millirem annually must receive appropriate radiation safety training. Radiation safety training records include the outline of the course, lesson plans, audio and video used in the course, records demonstrating practical application of skills learned, and certifications, accreditations, and confirmation of training completion.
ALARA records include details about implementation of control levels, annual performance, dose estimates versus actual doses, results of optimization analyses, and ALARA training. Administrative records for radiation safety also include entry and access control records and testing of administrative and physical controls and corrective actions. Records pertaining to sealed radioactive sources are also maintained. The policies and procedures of the radiation protection program are documented for future reference and to demonstrate compliance.
Individual Dose Records
It is worth noting that radiation dose records contain the employee's personal identifying information and are considered equivalent to medical records and subject to privacy regulations. Personnel monitoring reports are legal documents that require a signature before they can be released to new employers or individuals. The radiation safety officer reviews personal dose records of individual employees on a regular basis. Dose levels are compared to average values and the worker's own past values. Investigation is recommended if a worker's monthly exposure exceeds 0.5 mSv effective dose, 5 mSv to the eyes, or 15 mSv to the extremities. In such cases, the RSO and medical physicist work with the individual to identify the cause of the unusually high reading.
First, the validity of the dosimeter reading is confirmed, i.e., that the correct dosimeter was worn by the worker at the correct position and stored properly. Once this is confirmed, work habits, new procedures initiated during the monitoring period, and ALARA techniques are reviewed to determine what may have caused the high exposure. If no cause can be identified, the worker may need to be observed by a medical physicist or physician while he or she is operating the equipment. When a cause for high personal dose has been identified, work practices can be altered or workload limited to ensure compliance with dose limits. More frequent real-time dosimetry may be necessary for such radiographers.
Record Retention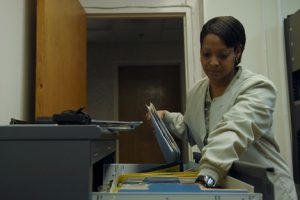 Records are retained until their disposition is authorized by the U.S. Department of Energy. Individual dose records are transferred to the DOE when radiation activities cease at a site and no further exposure takes place there. Some licensees are required to send yearly reports of worker radiation exposures to the NRC. This information is maintained in RIERS (radiation exposure information and reporting system) which serves as an additional resource for a radiographer's occupational dose history. Depending on the type of record, electronic data files in RIERS are either destroyed or transferred to the National Archives after a cutoff period.
Continuing Education for X-ray Technologists
Visit our X-ray CE page for a range of courses with category A credits accepted by the ARRT® and other national registries as well as US state registries and Canadian Provinces. We offer specific bundles for California X-ray CE as well as Florida CE credits and radiologic technologists practicing in Texas.
Here is more about radiologic technologist ce credits