Implementing Radiation Safety in Digital Radiography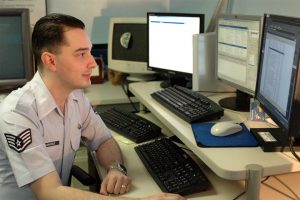 Digital radiography is a powerful tool in the medical management of patients. It has distinct advantages over film-screen technology in terms of image acquisition (wide dynamic range), image manipulation (post-processing functions), and image distribution (electronic transfer and archiving). Digital radiography equipment provides diagnostic information that is equal to or superior to film-screen systems at comparable radiation doses. It is therefore an important technological advancement that has aided RTs in implementing radiation safety. It should be noted that conventional radiographic images can be converted to a digital format with a digitizer for electronic storage and some post-processing. However, such converted images are not considered true digital radiographic images.
Implementing radiation safety in digital radiography is especially important because there is a tendency to obtain an increased number of images with digital (film-less) radiography. A study by Reiner et al. in the year 2000 found that the number of radiographic examinations obtained per day increased by 20-80 percent (for outpatients and inpatients, respectively) in hospitals that had transitioned from conventional film radiography to digital imaging technology. This increase in the number of radiographic studies can lead to higher patient radiation exposure without additional benefit.
Technological Advances That Aid in Implementing Radiation Safety
Two components of a digital radiology department, RIS and PACS, i.e., the radiology information system and the picture archiving and communication system respectively, make image distribution faster and more efficient, thereby helping in implementing radiation safety. Digital imaging and communications in medicine (DICOM) is a standardized industry format that allows different systems to share medical information and images. Radiographic images obtained in the DICOM format contain additional information related to patient identification, the X-ray system, radiographic technique, and dose data. You can learn more about PACS and DICOM from our article containing links to useful resources on these subjects.
Image Post-Processing
A major benefit of direct radiography technology is the ability to adjust the image after it has been acquired. Manipulation of digital images is accomplished with functions such as zooming, panning, windowing, measuring angle and distance, and inverting the grayscale. Manipulation is performed on a digital image at a computer workstation. Image manipulation can help avoid repeat imaging and thereby reduce radiation exposure, thereby implementing radiation safety.
However, it is important to remember that whereas digital technology can potentially reduce patient radiation exposure, there is also the potential to use significantly more radiation than is needed. This is because in DR systems the computer automatically makes adjustments to make the image of diagnostic quality, i.e., less noisy. Digital radiography equipment can compensate for incorrect technique and produce a good image even if it means exposing the patient to a dose that is higher than necessary. In other words, the tradeoff for superior image quality is a high radiation dose; however, this high-quality image does not necessary contain any additional useful diagnostic information. Thus, radiation dose needs to be carefully managed when imaging patients with digital techniques.
Image Exposure
Underexposure in DR systems can be recognized by a noisy image and can be easily corrected by the technologist. However, overexposure can go undetected unless the patient's dose is being monitored. In fact, digital detectors can compensate overexposure up to 10 times the correct exposure. In other words, image brightness can be adjusted during post-processing regardless of exposure level. Therefore, in digital systems, the radiologic technologist does not get instant feedback (unlike film-screen systems where overexposure is immediately evident). Moreover, if the AEC develops a fault or there is a drift in output calibration, this may not be easily identified due to the wide dynamic range of digital equipment. These factors must be kept in mind when implementing radiation safety.
Exposure index is a number that indicates the exposure to the digital detector. There is a lack of standardization in exposure index across vendors. To address this problem, the IEC and AAPM have created a set of sensitivity index values that characterize the standard exposure to the image receptor.
Image Optimization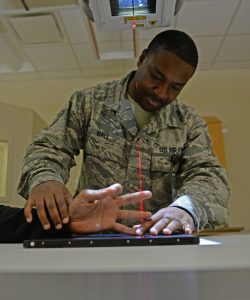 Not all imaging tasks require the same level of image quality. For example, a follow up radiograph of a fracture may not need to be of the same quality as the initial radiograph to diagnose the fracture. Optimization does not simply mean making the dose minimum and the image quality best possible. Rather, it means determining what level of quality is necessary in the image to obtain the required diagnostic information and minimizing the radiation exposure without compromising on the required image quality. Thus, the primary objective is to determine the appropriate level of image quality and the secondary objective is to keep the dose low while achieving that level of quality. In this way it is possible to avoid unnecessary radiation exposure that does not offer any additional benefit for the intended clinical purpose. Understanding this key concept is paramount to implementing radiation safety.
The ability to perform post-processing and image manipulation in digital radiography systems can potentially lead to high radiation exposure. For example, in digital systems it is easy to delete unnecessary images of inadequate quality, thus making it difficult to track patient dose. Inadvertent deletion of poor-quality images can also make it difficult to audit the number of retakes in digital systems. In other words, repeat exposures may remain undetected and undocumented. Post-exam cropping can be performed (instead of collimation) to produce apparently perfect digital radiographs with undocumented patient radiation exposure. In 2011, the ASRT surveyed 450 radiologic technologists and found that half of them admitted to using electronic cropping following exposure. Poor collimation and post-exposure cropping irradiate a large part of the body which is not evident on the digitally cropped image. Radiologic technologists must keep these factors in mind when implementing radiation safety.
Continuing Education for X-ray Techs
Looking for affordable X-ray CE? We offer several online e-courses on our website with category A credits good for ARRT® CE requirements and accepted by NMTCB, ARDMS, SDMS,  every US state and territory, Canadian province, and all other Radiologic Technologist, Nuclear Medicine, and Ultrasound Technologist registries in North America for both full and limited permit technologists, guaranteed.