Radiation Safety Program and the X-ray Tech's Role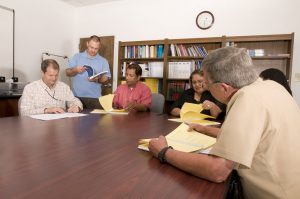 The policies and procedures that ensure the safe use of X-ray equipment at healthcare facilities are collectively called the radiation safety program. The program lists the authorized users of X-ray equipment. Also, safe practices necessary to ensure radiation protection are outlined. Guidelines for the protection of pregnant patients, pregnant staff, and females of childbearing age are included in the radiation safety program. The program also outlines the necessary education and training of radiation workers. Besides, it provides recommendations for effective monitoring of staff exposure (dosimetry). Last but not least, the radiation safety program establishes a maintenance schedule for X-ray equipment.
X-ray technologists work in a radiation environment. This makes it mandatory for them to be aware of the different components of the radiation safety program. These guidelines and rules are critical for the safety of patients and staff alike. It never hurts to refresh your knowledge on radiation safety.
Objectives of the Radiation Safety Program
The radiation safety officer heads the radiation safety program. This program at medical imaging facilities is designed to minimize the radiation exposure of patients, staff, and the general public. Policies and procedures ensure safe use of X-ray equipment by authorized operators. The program outlines the practices and techniques necessary for the radiation safety of all patients. Also, the special considerations required for female patients of childbearing age and pregnant workers. Staff education and training procedures are recommended as part of the program. Also, monitoring of occupational radiation exposure is part of the radiation safety program. Besides, it includes the maintenance schedule of X-ray equipment. The program is overseen by the RSO or a medical physicist and documents the following aspects of radiation safety:
Assignment of duties and responsibilities
Classification of unrestricted, supervised, and controlled areas
Rules for supervision of work and monitoring of workers and the place of work
System to document and report all necessary information concerning radiation protection
Education and training on the nature and hazards of ionizing radiation
Methods for periodic reviews and audits of the radiation protection program
Procedures and plans for emergencies
Worker health surveillance
Creating a Culture of Patient Safety
Rapid technological advances, the emergence of new imaging modalities, and the need to adapt have affected the workplace culture in radiology departments and how the radiation safety program is implemented. For instance, new technologies have renewed focus on the importance of continuing education. Hospital administrators and workers in other departments may fail to understand the critical importance of applications training that is made necessary by the rapid changes in technology. One example of why the workplace culture is important is because it dictates whether technologists receive uninterrupted and focused training. This training has a direct impact on patient radiation safety. Vendors introduce new features in imaging equipment from time to time, but it is the workplace culture that determines how staff use the new tools to report and track patient dose, improve technique, and implement dose-saving features of the new technology.
Administrators play an important role in this process. Planning is critical to optimize the purchase and implementation of new technology and maintain workflow efficiency. Cultural changes in the workplace are an important aspect of radiation safety. For example, the media became actively involved in educating the public about the risks of childhood radiation exposure. This led various stakeholders to address the issue and bring about changes in pediatric imaging techniques. Adherence to ALARA requires the cooperation of every worker in the radiology department and a safety-focused work culture supports this endeavor. Managers can promote a workplace culture that is conducive to following the radiation safety program by maintaining records of exposure information and investigating patterns that fall outside the appropriate norms.
Implementing the Radiation Safety Program
Radiation safety culture refers to a set of shared beliefs among individuals working with radiation equipment in a healthcare setting. The attitude, values, and acceptable behavior in a department all help to achieve the ultimate goal of radiation protection. The radiation safety program cannot be implemented by an individual radiologic technologist. An overall safety culture in the department and organization is necessary to ensure the safety of patients, staff, and the general public.
On an individual level, every worker in a healthcare organization must be committed to the radiation safety program. This includes compliance with safety training programs as well as self-directed compliance in which each worker is responsible for their actions. In addition, behavioral safety consists of being vigilant for hazards and reporting potentially harmful behaviors in others. In this way, the workforce remains aware of each other's safety. No blame – no shame, a willingness to learn, transparency in communication, team work, and reporting errors as a means of learning are all methods of promoting radiation safety. To this end, the leadership in a radiology department and the organization play a vital role in developing and updating risk management strategies, implementing regulations, assessing the effectiveness of safety programs, and performing audits.
Technologists and Radiation Safety
Radiologic technologists play a critical role in implementing the radiation safety program. Every RT must be committed to radiation safety on an individual level. It is also important for radiation workers to understand the key aspects of radiation protection and to encourage participation in radiation safety by coworkers and patients. All individuals working in a radiology department are accountable for radiation safety. Open communication and teamwork is critical for the safety of everyone. One of the personality traits that promotes radiation safety is the confidence to speak up in uncertain or potentially dangerous situations, regardless of organizational hierarchy. Complacency should be avoided and the RT's attitude should be one of constant learning. If each RT supports the organization in this endeavor, it can help to continually improve and strengthen the radiation safety at the facility.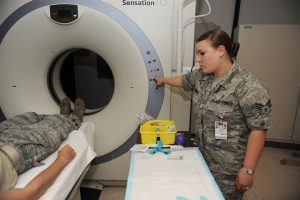 There is some inherent risk in the delivery of healthcare, including radiologic examinations. Radiation protection is designed to minimize this risk and maximize benefit to the patient. In addition to the skill and attitude of healthcare providers, the radiation safety of patients, hospital employees, and the general population depends on a number of factors, such as organizational management, safety culture, and policies and procedures to minimize risks. In addition to radiation safety during routine operations, RTs play an important role in safety during a radiation crisis.
Strategies for Radiation Protection
At medical imaging facilities, a radiation safety program and culture of safety is implemented with approaches such as no blame/no shame, team work, communication, willingness to learn, and reporting errors to promote learning. Strategies include education and training, advocacy (increased awareness), standards and guidelines, and audits and feedback to improve quality of care. A major objective of radiation safety is to prevent adverse events. To this end, radiologic technologists and other healthcare providers should:
Make an individual and collective commitment to radiation protection
Ensure understanding of the key principles of radiation safety
Be accountable for the safety and protection of patients, coworkers, and the public
Engage in open communication with coworkers and the management
Foster an attitude of learning and avoid complacency
Administrative Measures
At every healthcare facility, certain administrative measures are necessary for the safe use of X-ray equipment as outlined in the radiation safety program. For example, all radiation emitting devices must undergo acceptance testing when they are first purchased (new or used) or refurbished to ensure compliance with regulations. In addition, existing equipment must be periodically upgraded to incorporate any newly-available safety features. The administration at a medical facility must also ensure that all radiation emitting devices are registered with the appropriate authority. It is the medical director's responsibility to hire an appropriately qualified radiation safety officer and/or medical physicist who can oversee the safe use of X-ray equipment in the facility.
The role of the radiation safety officer is an advisory one. The medical director and hospital administration also ensure other responsible users, such as the facility administrator, licensed physicians, and radiology technologists, are competent to fulfill their responsibilities in accordance with regulations. Yet another administrative measure that is part of safety is the development and implementation of a comprehensive radiation safety program, including personnel qualifications and training, equipment performance and quality control, and safety and emergency procedures. Further information on radiation safety can be obtained from the Occupational Health and Safety Administration (OSHA) website.
Caution Signs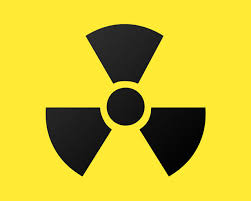 The standard radiation symbol is a trefoil design on a yellow background. The three blades of the trefoil can be in black, purple, or magenta. It is a requirement for licensees to post this sign along with the following words, as appropriate:
CAUTION – RADIATION AREA
CAUTION – X-RAY
CAUTION – HIGH RADIATION AREA
DANGER – HIGH RADIATION AREA
GRAVE DANGER – VERY HIGH RADIATION AREA
DANGER – AIRBORNE RADIOACTIVITY AREA
CAUTION – AIRBORNE RADIOACTIVITY AREA
Controlled and supervised area notices include the words:
RADIATION CONTROLLED AREA – RISK OF RADIATION – NO ENTRY EXCEPT AUTHORIZED PERSONS
RADIATION SUPERVISED AREA – RISK OF RADIATION
Radiation Safety Officer
The radiation safety officer at a healthcare facility oversees the radiation safety program in an advisory role. To fulfill their responsibilities, radiation safety officers must possess current and in-depth knowledge of structural shielding, radiation shielding barriers, personal protective equipment, and staff radiation monitoring. It is also the RSO's duty to investigate the cause of known or suspected abnormal or excessive radiation exposure to patients or staff and to take appropriate steps to prevent a recurrence. The RSO conducts safety checks and radiation surveys to identify any equipment problems. Surveys are conducted when new equipment is purchased or when existing equipment is upgraded, modified, or repaired.
Procedural Measures
Certain processes and procedures in the healthcare setting are essential for the radiation protection of patients, visitors, and staff. Procedural measures in the radiation safety program include ensuring that X-ray equipment is operated in an area with controlled access. At the entrance of every radiological suite or procedure room where X-ray equipment is used, warning signs are posted to alert staff and patients of the potential radiation hazard. Warning signs are prominent, stating "CAUTION: X-RAYS" in two contrasting colors and large lettering. The doors to a radiological suite must remain closed when radiation emitting equipment is in use. Only those individuals whose presence is absolutely necessary should remain in the room where radiation is used.
Other procedural aspects of the radiation safety program include staff should not be exposed to the primary X-ray beam. X-rays should not be used deliberately for equipment evaluation or training purposes. All staff should wear personal protective devices during radiological imaging. Radiologic technologists should avoid manually holding the patient if possible, and instead, traction devices, slings, and sandbags should be used to maintain patient positioning and ensure immobility during radiation exposure. The RSO or medical physicist provide guidance on the use of lead acrylic screens and movable shielding panels. As part of procedural measures for radiation safety, X-ray user manuals and operator instructions are made readily available in the X-ray suite.
Continuing Education for X-ray Technologists
We offer a range of online courses for X-ray continuing education at affordable prices. Browse our website to find that type of course that meets your needs.