Bone Tumors Radiology and Oral Bone Disease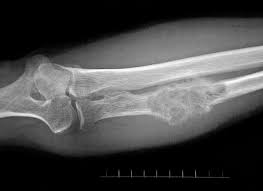 Inherited disorders of the bones are present since the time of birth. However, certain skeletal conditions are acquired later in life. A common type of acquired disorder is a bone tumor. Bone tumors radiology is an important diagnostic method to identify malignancies of the skeleton. X-ray technologists may come across patients with bone tumors when they present to the radiology department for imaging.
Our course on ALARA in Digital Radiography is a great way to brush up on your knowledge. It is worth 4 CE credits recognized by the ARRT® towards continuing education for radiologic technologists.
Primary and Secondary Bone Tumors
Primary bone tumors originate in bone tissue. Secondary tumors (seeds or metastatic deposits), however, are more common and spread to bone from primary tumors elsewhere in the body. Both primary and secondary tumors destroy bone, but some secondary tumors are associated with an increase in bone formation. Bone tumors radiology helps in differentiating between the different kinds of malignancies.
Tumors that originate in bone (primary bone tumors) can be non-cancerous (benign) or cancerous (malignant). A common type of benign tumor of bone is osteochondroma. Among malignant primary bone tumors, Ewing's sarcoma and osteosarcoma are the most common.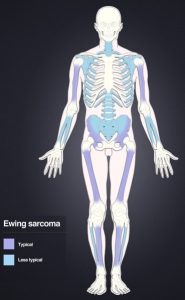 Primary tumors in the prostate gland and breast often spread to bone, resulting in bony metastatic tumor deposits. These secondary bone tumors radiology appearance may be osteolytic (bone destroying) or osteoblastic (bone forming). Metastatic bone deposits from primary breast tumors are typically osteolytic whereas those from primary prostate cancer are usually osteoblastic (although still destructive of bone structure). Tumors cells also induce bone resorption by producing parathyroid hormone related peptide. This increases the resorption of bone, which in turn results in growth factor release, further supporting the growth of the tumor.
Multiple Myeloma and Other Bone Tumors Radiology
Multiple myeloma is a malignant cancer of antibody-producing plasma cells. As many as 8 out of 10 patients with this condition suffer from bone destruction. The cytokines released by myeloma cells stimulate osteoclasts to resorb bone and prevent osteoblasts from forming bone. This destructive process in bones causes severe pain, compression of the spinal cord, pathological fractures, and an excessively high level of calcium in the blood which can be life-threatening. Monoclonal gammopathy, a benign condition in which there is an excessive production of antibodies, is also associated with an increased risk of fractures.
Lymphoproliferative disorders such as leukemias (acute and chronic), non-Hodgkin's lymphoma, and Burkitt's lymphoma are associated with the production of cytokines which are bone resorbing. In patients with these bone tumors radiology often exhibits osteoporosis. The abnormal proliferation of mast cells in a condition known as systemic mastocytosis leads to both thickening of trabecular bone (osteosclerosis) as well as osteoporosis. Infections and infiltrative processes such as myelofibrosis also affect bone.
Oral Bone Disease
Similar to the rest of the bones in the body, oral bone is also comprised of cortical and trabecular bone. Throughout the individual's lifetime, oral bone likewise undergoes the processes of bone formation and bone resorption. When resorption exceeds formation, it can result in the teeth losing their anchoring support. If tooth loss (partial or complete) is already present, excessive resorption can diminish the ridge of remaining bone.
Loss of oral bone is prevalent worldwide. Its incidence is noted to increase in older individuals, both men and women. Estrogen deficiency and osteoporosis are linked to the loss of oral bone and consequent tooth loss. In women who are postmenopausal, osteoporosis affects the need for and the outcome of prosthetic and periodontal procedures such as tooth implants. In addition, findings on physical examination and radiography of the oral cavity serve as useful guidelines for the presence of bone loss extraorally.
Get more information about radiologic technologist continuing education credits here.