X-Ray Tech Scrubs with Style
If you're tired of standard issue scrubs, check out these hot hospital-friendly fashions for men and women. These sexy scrubs for radiologic technologists and ultrasound techs will cheer up your patients and co-workers. Click on the links to see more colors and prices.
Baby Phat Scrubs
In 1998, supermodel Kimora Lee Simmons established Baby Phat, a label for women that merged the worlds of high fashion and hip-hop. The embodiment of "urban luxury," the brand's signature bold details, novelty fabrics, and sassy attitude evolved into an entire lifestyle collection including a line of scrub tops and pants for the working lady. Turn to Baby Phat for fashionable, chic work wear that complements your everyday style.
Baby Phat Mock Wrap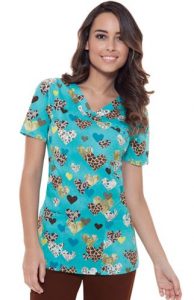 This stylish 100% cotton mock wrap top features roomy patch pockets, feline logo snaps, release darts and front and back side vents for shaping. Many colors and coordinating pants are available.
Baby Phat Scoop Neck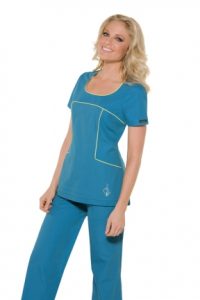 This scoop neck printed top features contrast piping on the neck, yoke, and pockets. Front princess seaming and a center back elastic offer a slim fit and perfect this fashionable top.
Baby Phat Scoop Neck Embroidered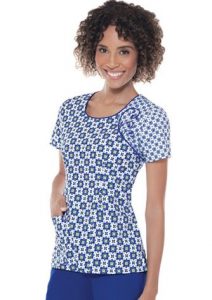 This fashionable cotton blend scoop neck top features a twin print and curvaceous left yoke with elegant embroidery. Also featured are front and back release tucks and front patch pockets. Side vents complete this top.
Baby Phat V-Neck Top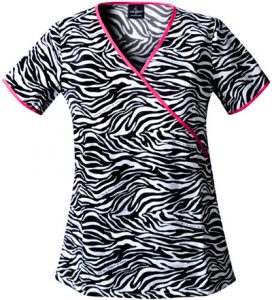 Show a bit of your wild side with the Baby Phat V-neck women's medical scrub top featuring stylish piping and patch pockets. Look shapely thanks to the back darts and front pleats. Side vents complete the look of this cotton top.
Baby Phat Square Neck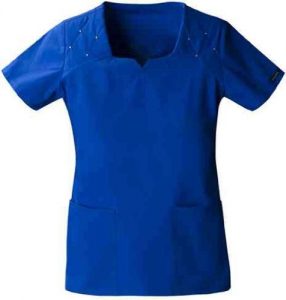 This curved square neck top features front neck and yoke embroidery and patch pockets. Back darts and side vents add shape to this 100% cotton top.
Baby Phat Asymmetrical Top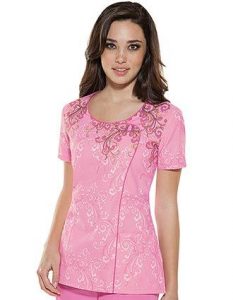 This stylish round neck top features patch pockets, back princess seams, and elasticized smocking. Side vents add shape to this poly/cotton brushed top.
Baby Phat Solid Color Round Neck Top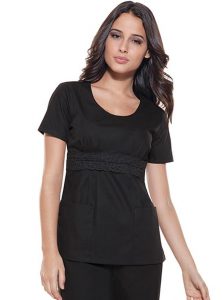 This fashionable scoop neck top features piping detail around the neck, interlocking straps, and stylish embroidery. Patch pockets and side vents complete the look. Available in black and white.
Baby Phat Drawstring Pant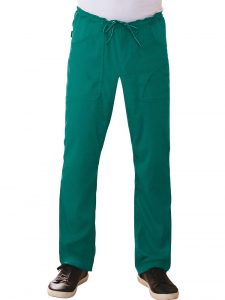 This comfortable drawstring pant features embroidery detail on the cargo pocket. Side scooped pockets and a back patch pocket add functionality and side vents add shape to this brushed cotton/poly blend pant.
See more colors and styles at
https://babyphat.scrubsinfashion.com/babyphatscrubs/fashion-print-tops/nursinguniforms4
http://www.medicaldiscountscrubs.com/store/pc/Baby-Phat-Medical-Scrubs-c39.htm
Cherokee Scrubs
Since 1972, Cherokee apparel has been known for comfort and fashion. Cherokee is dedicated to bringing fashion, comfort, and quality (as well as a little more style and personality) to uniforms without sacrificing the functionality you need to do your job.
Tooniforms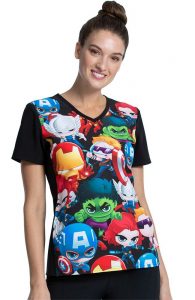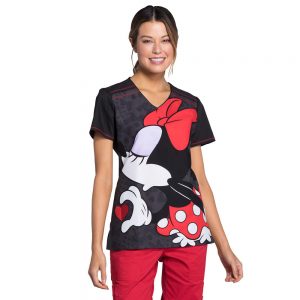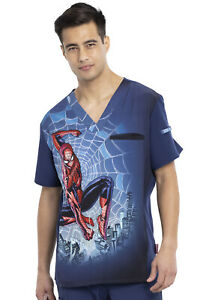 Tooniforms by Cherokee feature world-famous characters to add a touch of fun to your work environment. The round or V-neck tops feature contrast double needle topstitching and piping along the neckline. Also featured are bust darts, an angled pocket on the right, a patch pocket on the left front, back elastic, and side vents.
Cherokee Luxe Mock Wrap Top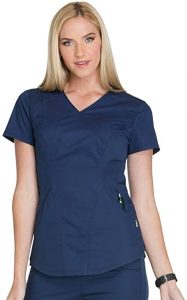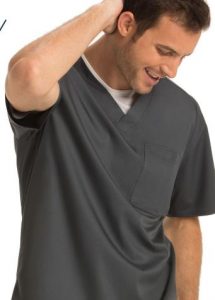 A mock wrap top features tonal zigzag stitching on the left neckband, front darts, empire waistband, two patch pockets, and an additional angled pocket with pin-tucks and tonal zigzag stitching. Elastic at back waist casing and side vents complete this picture.
Cherokee Flexibles Print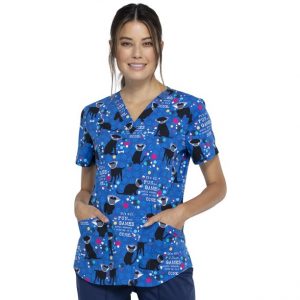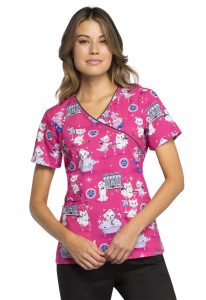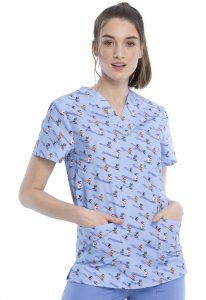 Prowl the darkroom in these prints. A slimming jewel neck top features soft knit contrast around the neckline for added comfort. Also featured are front and back yokes, stretchy side knit panels and inseam pockets. The mock wrap top features contrast soft knit side panels and two patch pockets.
Cherokee Flex Mock Wrap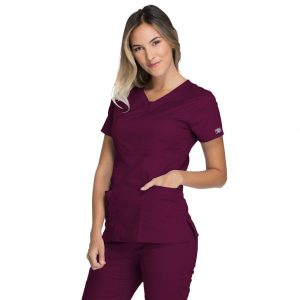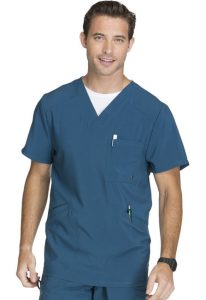 Stain resistant 65/35 Brushed Poly/Cotton. A mock wrap top features flattering and comfortable contrast knit side panels and two front patch pockets. Empire waist with front and back elastic for shaping updates this style.
See more colors and styles at
https://www.cherokeeuniforms.com/
https://medicalscrubscollection.com/cherokee-scrubs-nursing-uniforms
Dickies
In 1922, two cousins founded the Williamson-Dickie Manufacturing Company in Fort Worth, Texas, and brought the Dickies® brand to life. The Dickies matched set uniform remains the very definition of authenticity, honest value, and uncomplicated style.
Dickies Unisex EDS Signature V-Neck Scrub Top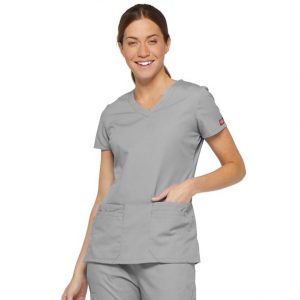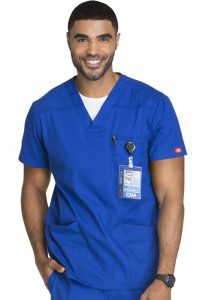 This brushed poplin scrub top compliments both men and women. The V-neck and front chest pocket add style. The breathable cotton blend and side vents add functionality, durability, and comfort. Available in a range of colors.
Dickies Women's Gen Flex Cargo Scrub Pants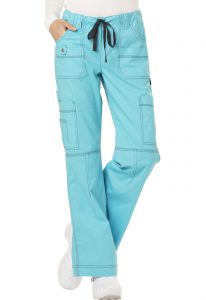 This cargo scrub pant has a contemporary straight leg fit. It features several pockets for functionality and a generous amount of stretch for comfort. The drawsting waist offers a perfect fit and the cotton/polyester/spandex blend provides breathability.
Dickies Mens Two-Tone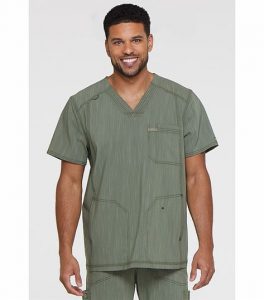 Men's fit, color blocked V-neck features short sleeves and chest pocket.
See more colors and styles at
http://www.dickiesmedical.com/
Carhartt
More than a century ago, Carhartt revolutionized the construction of premium workwear with the toughest materials available: denim and brown duck fabric. Today Carhartt brings its rugged-as-all-outdoors construction and look to medical scrubs.
Carhartt Men's Color Block Utility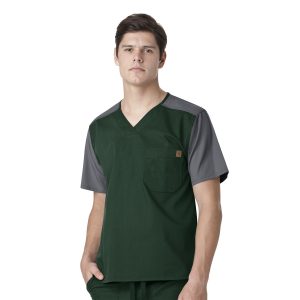 This men's color block utility scrub features two front patch pockets. The back pleat and split hem allows a full range of mobility.
See more colors and styles at
https://www.carhartt.com/category/carhartt-men-scrubs
https://www.carhartt.com/c/women-ppe-scrubs
New Balance Healthcare
Healthcare apparel has come a long way since the starchy scrubs from your parents generation. New Balance Healthcare offers the latest in style and technology featuring PerforMed Core woven fabric. New Balance scrubs offer the softness demanded by healthcare workers, with a new focus on stretch. The super-soft blend also boasts Lightning Dry comfort-management technology and an anti-wrinkle finish to keep men in nursing and other healthcare professions looking sharp all shift long.
New Balance Healthcare Men's Rogue Top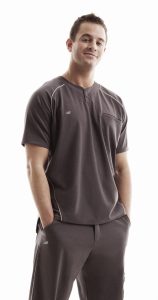 New Balance combines PerforMed Core, super softness and anti-wrinkle features with Lightning Dry, a superior moisture wicking technology.
New Balance Healthcare Women's Tops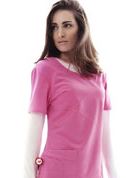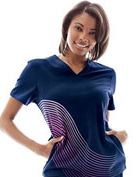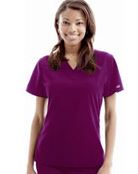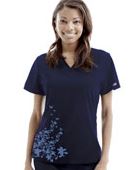 You can't go wrong in these New Balance scrub tops with their athletic-inspired design and sleek style.
See more colors and styles at
https://newbalance.scrubsinfashion.com/
WonderWink
Wonderwink invites you to 'expect compliments' as they strive to capture the fresh, fun, and exciting essence of uniforms with perfected fit, finish, details, and colors, always moving forward to bring you the ultimate experience: scrubs that change your attitude.
WonderFLEX Prints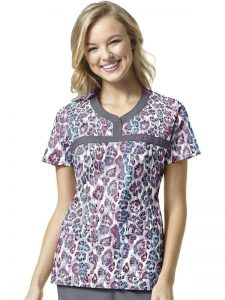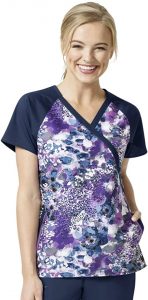 These scrub tops in fresh prints and vibrant colors come with a modern fit and two lower tilted pockets. Front body darts provide superior shaping and vented sides add comfort.
WonderWink Seven Flex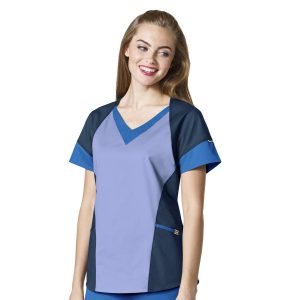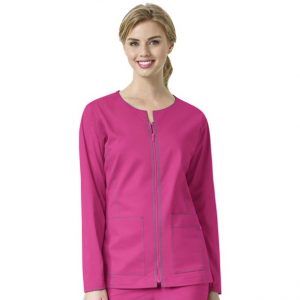 This new-generation flexible fabric offers fit, style, and utility. The specially formulated twill fabric is stretchable and durable with an uber comfortable soft touch feel.
WonderWink Origins Tri-Charlie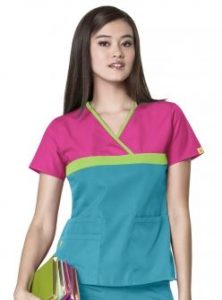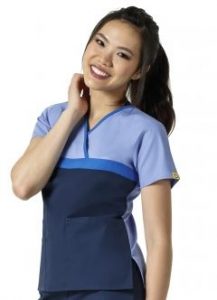 The WonderWink Tri-Charlie Y-neck mock wrap tops feature 2 lower pockets including a WonderWink signature triple pocket as well as a signature ID loop and invisible 3-part accessory loop. 65/35 Poly/Cotton.
See more colors and styles at
Grey's Anatomy by Barco Uniforms
Wear the same medical scrubs as your favorite medical professionals on television! Grey's Anatomy Scrubs and the NRG Signature Series are great collections of solid scrubs and print scrubs by Barco Uniforms. Made with Dura Tech fabric with soil release and many other features, the Greys Anatomy scrubs line is designed to be both functional and stylish. This is healthcare apparel with a dash of style.
Grey's Anatomy Active Spandex Stretch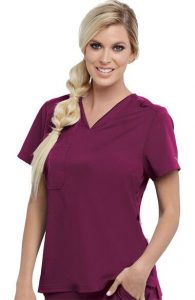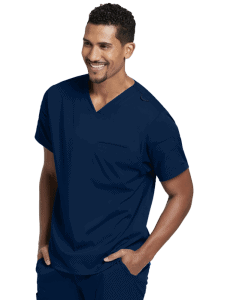 3-pocket, V-neck, zip contrast knit panel tops with a modern fit. The invisible zip pocket adds functionality and the princess seam adds shape.
Grey's Anatomy Classic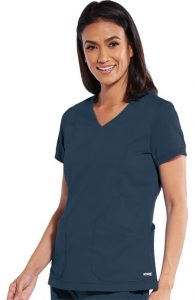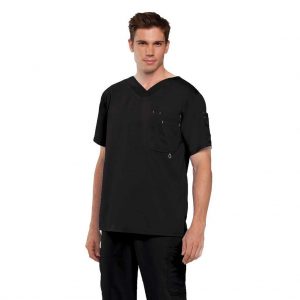 Embrace timeless style with these modern, yet classic scrubs that offer both quality and comfort to the discerning healthcare professional.
Grey's Anatomy Active Spandex Stretch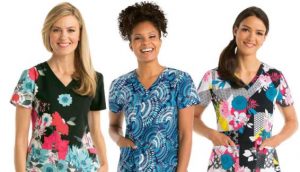 Show off a bit of your personality with these 2-pocket V-neck tops with shirring at back yoke.
See more colors and styles at:
https: //www.barcouniforms.com/greys-anatomy
https://medicalscrubscollection.com/greys-anatomy-scrubs-nursing-uniforms
Figs Scrubs
Founder Heather Hasson set out to revolutionize the medical apparel industry after noticing a friend and nurse practitioner wearing uncomfortable, boxy scrubs. Figs has completely transformed the healthcare experience by putting a great deal of thought into workwear for medical professionals. Innovative fabrics, modern designs, and a user-friendly e-commerce platform all provide an unrivaled experience for the customer.
See more colors and styles at:
Accra 6-pocket Scrub Top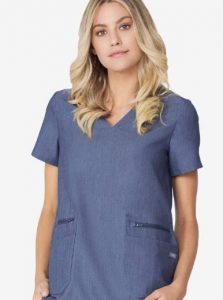 Six functional pockets including two front deep pockets with auto-lock zip closure make this top the ultimate in style and utility. A loosely tailored fit and flattering V-neck make this Figs top a must have.
Leon 2-pocket Scrub Top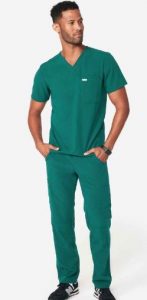 Two functional double chest pockets and a modern V-neck make this scrub both stylish and comfortable. A ridiculously soft fabric and four-way stretch with anti-wrinkle and moisture-wicking technology will make you never want to get out of these scrubs.
Cusco Oversized-Pocket Scrub Top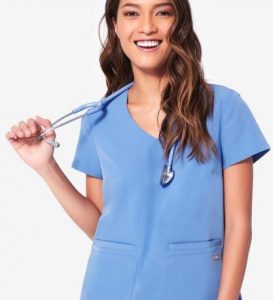 Oversized dual-function drop and side pockets mean the Cusco scrubs have space for this, that, and everything else. The flattering V-neck and loosely tailored fit add style. The anti-wrinkle, antimicrobial, moisture-wicking, liquid repellant fabric keeps you comfortable all day long.
See more colors and styles at
https://www.wearfigs.com/collections/all-scrubs-womens
Jaanuu Scrubs
Launched in 2013 with a goal of reinventing uniforms, the word Jaanuu is derived from the Hindi word "jaan" which means life. The brand ideology is to breathe new life into workwear for healthcare professionals. The ultimate goal is to create scrubs that allow the medical worker to feel confident and expressive while looking and feeling good.
Jaanuu Ring Detail Top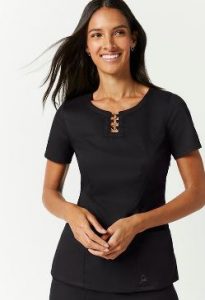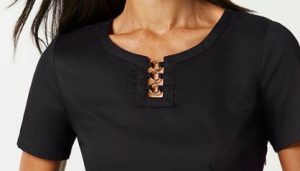 Add a little flair to your scrubs closet with this ring detail top that features a scoop neck and shaping darts at the waist and chest. Two front patch pockets add functionality and the fitted silhouette has you looking your shapely best.
Jaanuu Tulip Top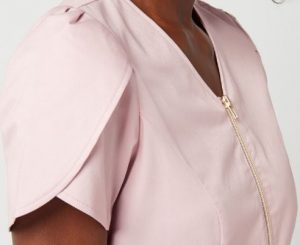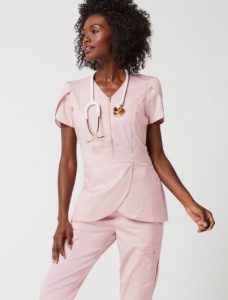 This elegant top with tulip-shaped sleeves is the last word in sophistication. The fitted silhouette, cinched waist, and flattering princess seams are designed for superior shaping. The stylish exposed front zipper and functional hidden side welt pockets make this scrub a best-seller.
Jaanuu Refined V-Neck Men's Top Dempsey Collection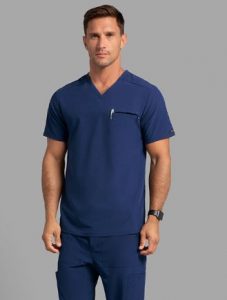 This essential V-neck scrub top for men is defined by easy tailoring for the perfect fit. The V-neck, pleated back detail, and chest pocket with plaid trim add a dash of style. The groundbreaking ultra-durable fabric ensures you can move and breathe freely while looking professional.
See more colors and styles at :
More information about radiologic technologist ce credits